Linking up for another edition of We Want To Know Wednesday!
Hosted by
Mamarazzi
,
Seriously Shawn
,
Janette
, and
Impulsive Addict
.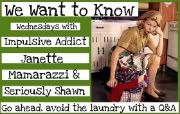 1. If money didn't matter, where would your perfect vacation take place? Briefly describe.
I have two places that I would LOVE to go. My top pick would be Scotland. I love reading romance books that are set in Scotland, I love the accent, the culture, and the castles!
My second pick would be to go to Necker Island. It's owned by Richard Branson. I want to go here so bad that I've even checked the prices! Check it out:
http://www.neckerisland.virgin.com/
You will want to go with me! I think we can get a better deal with groups over 20! Who wants to come!?!
YES PLEASE!!!
2. What's a bad habit that you have (or had) that is/was hard to break?
Not washing my face at night! I KNOW that it is imperative. I used to be a beauty consultant with Mary Kay. I told other women to wash their faces but it's SO hard for me to take those extra two minutes to do it myself!
3. If you weren't on a diet or counting calories, what would you like to have for dinner tonight?
Oh good Lord. Where to start. So since we aren't counting calories and I'm on this fictional planet where diets do not exist I'm assuming I would have a bottomless stomach and could eat how much I wanted and not feel sick right? Right! Let's start off with some bread sticks and some alfredo sauce to dip them in. Yummy carbs. Then the main course would be creamy Fettuccini Alfredo with fresh Parmesan cheese. (More carbs please!). Then I would end my meal with a huge slice of New York Style Cheesecake, hold the cherry sauce please. What did you say? I had that for my birthday last year? Surely not! This is fiction we are talking about!
4. If you had the chance to interview anyone in the world, dead or alive, who would it be and what's one question that you would ask?
This is always a hard one for me! But I think I actually have an answer. I would want to interview Kate Middleton … or Duchess Catherine should I say? I would ask her what it's like to be in that world? To go from a normal girl to the future QUEEN of England. It's like something out of a fairy tale to me.
5. Describe yourself in 6 words.
Honest, Loyal, Nice, Trustworthy, Caring, and now Hungry