Welcome to another week of Meet Me on Monday!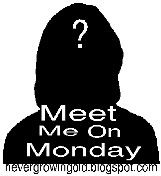 ~*~*~*~*~*~*~*~*~*~*~*~*~*~*~*~*~
1. What are you wearing right now?
Pretty much my normal everyday attire, it just vaires by shirt type and color. Today I'm wearing a maroon silky shirt, a black cotton long sleeve sweater type thing, blue jeans, and black tennis shoes.
2. Do you have any freckles?
A couple on my shoulders.
3. What is your favorite lifesave flavor?
I don't eat hard candy much because I always crunch on it and then it gets stuck in my teeth. I'm not patient enough for it to dissolve. BUT my favorite flavor is either cherry or grape.
4. What is the last movie you saw in the theater?
Saturday we saw Unknown (with Laim Neeson). It was really good. Not in my favorites but still worth the $ to see it in theaters.
5. Would you rather live without tv or without music?
HARD ONE! I would rather live without tv I suppose. I don't think I could live one day without some type of music. Nothing cheers you up faster than a good beat.