I'm linking up with Kenzie from Life & Lemons Make Lemonade for We Want To Know Wednesday!! I love these Q&A type of posts! Today's topic is Valentine's which is one of my favorite holidays.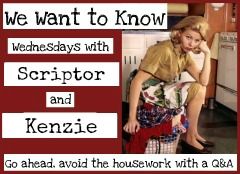 1. What is your favorite flower?
My favorite flowers are Gerber Daisies and Peonies. I can't chose just one favorite.

2. Tell us about your favorite Valentine's Day:
One of my favorite Valentine's was just a very simple one. Adam and I decided to pick up a couple of bottles of wine to have with/after dinner. We lit a fire in our fire pit and just hung out together. We drank wine, laughed, and talked. It even started raining so we grabbed our huge umbrella that's on a stand and put it over us. It was a very romantic night. :)


Yes that's a trash can … we are a bit hillbilly sometimes. ;)
3. Was Valentine's Day a big deal when you were a kid?
Of course! I had to pick out the cutest cards to give all of my friends at school! I loved writing out all of my cards.
4. If you could have any one thing for Valentine's Day what would it be?
Adam always buys me flowers and I love that. Sometimes he does a fancy bouquet but my favorites are the ones he gets from the grocery store and arranges himself. I would love to have some chocolate covered strawberries this year. I've been seeing these commercials everywhere for Shari's Berries and they look SO good!

5. Do you have any special plans for Valentine's Day?
Yep but I can't give them away yet just in case the Mr decides to blog stalk me or something. :)